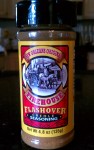 NEW ORLEANS ORIGINAL FIREHOUSE FLASHOVER CREOLE SEASONING
This Creole seasoning blend will become your favorite "go-to" spice in the pantry! A great flavor combination of all-natural ingredients – low in sodium and just the right amount of savory zest and subtle heat. Sprinkle generously on chicken, seafood, pork or beef – anywhere where you want to capture that unique New Orleans Creole taste! No fillers. No MSG. Gluten-Free. A private label recipe produced by Deep South Blenders in New Orleans, Louisiana and a Certified Product of Louisiana.
SORRY – FLASHOVER SEASONING IS NO LONGER AVAILABLE FOR PURCHASE
Net weight 4.8 oz (135g) per bottle.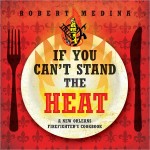 IF YOU CAN'T STAND THE HEAT…A NEW ORLEANS FIREFIGHTER'S COOKBOOK
This cookbook brings you into the firehouse kitchen. It contains recipes for classic New Orleans fare as well as many original firefighter recipes from this culinary capital. If you ever wanted to cook a gumbo, make an etouffee, or just master a basic roux, this book is for you. Author and retired New Orleans Firefighter Robert Medina breaks it down into easy to follow steps. It's truly Big Easy cooking made easy! A portion of the proceeds from all sales of the cookbook benefit the National Fallen Firefighters Foundation. Cookbook will be autographed by the author at no additional charge. Please specify inscription in message box below.
Copyright © 2011 by Robert Medina; Published by Tate Publishing & Enterprises, LLC; Perfect Paperback, 384 Pages
If You Can't Stand the Heat…A New Orleans Firefighter's Cookbook
PRICE: $24.95 per book plus Shipping and Handling