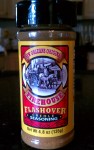 We will be doing a product demo at Dorignac's in Metairie, LA beginning at 10:00am on Saturday, September 7, 2013. Be sure to stop by as you gear up for Tailgating football supplies for the LSU Tiger homegame opener that evening or the New Orleans Saints opener against the Atlanta Falcons in the Superdome on Sunday!
Flashover Seasoning works great as a condiment for your for your beef, pork, chicken or seafood but also doubles as a flavorful rub for your barbecue.
Be sure to stop by for a sample and pick up a bottle for gametime festivities!