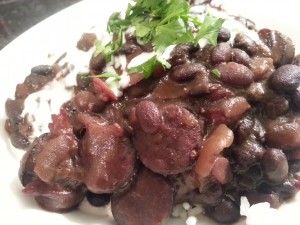 My idea for this recipe was to cook black beans as I normally would cook red beans. The difference is that instead of andouille I used chorizo sausage. Instead of parsley, I used cilantro. Instead of hot sauce, I used Mexican Biz. At least that's what we call it. Mexican Biz is just 2oz. of smoked and dried chipotle peppers boiled in one cup of olive oil for a minute. Once it cools, you put all of the contents into a food processor and turn it into an oily paste. I put it in a bottle so it can be poured out at will. We add this to the beans as a condiment when served. Treat it like Tabasco … everybody likes a different amount.
INGREDIENTS:
1 pound of

Camellia

dried black beans
64 ounces of unsalted chicken stock
2 smoked ham hocks
3 small onions (chopped)
¼ cup of green bell pepper
⅓ cup of celery (chopped)
2 cloves of garlic (chopped small)
2 tablespoons of cilantro (chopped fine)
1 pound of cured Spanish Chorizo (not the loose kind)
1 teaspoon of salt (check to taste first before adding)
Mexican Biz (as an accompaniment)
Soak rinsed beans overnight in the chicken stock. Put on a medium fire and warm up. Put everything else in the pot (except the Mexican Biz.) Cook uncovered on a low fire until the beans begin to get soft. This will take about 2 hours. Remove ham hocks and let cool. Take any meat you can get from the ham hocks and cut up into small pieces. Add back to pot. It may take up to 5 hours to completely cook depending on the beans. Some beans may be a little harder than others. Stir often to keep them from sticking. They will break down and thicken up over time. Check to see how soft the beans are and if they thicken up too much, just add a bit more chicken stock. Serve over white rice. We like to add a bit of crema and cilantro as a finishing touch!