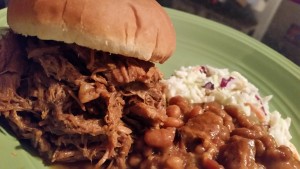 Slow-Cooker Pulled Pork featuring
New Orleans Original Firehouse Backdraft BBQ & Butt Rub
Ingredients:
6 lbs pork shoulder
2 cups mango nectar
1 cup Backdraft BBQ & Butt Rub
2 tbs bacon fat
12 tbs liquid smoke
1 cup molasses
1/3 cup apple cider vinegar
Salt to taste
Directions:
Inject pork with 1 cup of mango nectar. Encrust with 1 cup of Backdraft BBQ & Butt Rub. Place in Ziploc bag and marinate overnight in the refrigerator. Heat 2 tbs of bacon fat in a pan. Brown meat on all sides. Remove from heat. Deglaze pan with another cup of mango nectar. Pour drippings into a Crockpot. Add liquid smoke. Put pork into Crockpot on low setting. Cook 8 hours or until meat shreds easily. Remove and let meat cool. Shred with 2 forks and remove bone. Add molasses and apple cider vinegar to the juices remaining in the Crockpot to dissolve. Put meat back in and simmer covered for 1 hour. Check taste for salt. Serve with Alabama White Sauce on your favorite bun. Enjoy!
Alabama White Sauce Recipe
Ingredients:
1 1/2 cups of store bought mayo
¼ cup apple cider vinegar
2 tsps prepared horseradish
1 tbs fresh lemon juice
2 tsp kosher salt
1 tsp fresh ground black pepper
½ tsp cayenne
3 tbs of white cane syrup
Directions:
Put all ingredients in a bowl and whisk together. Cover and let sit overnight. Do not use homemade mayo because it turns out too runny. Alabama White Sauce is also great on French fries!