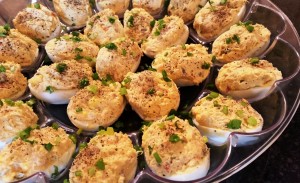 This is another variation on a brunch theme-type of appetizer. I used to make deviled eggs the way mom made them and everybody seemed to enjoy them. Most people make deviled eggs with a sweet flavor but my mom had a different slant on them that made them stand out. She always served them around the holidays at home. But firefighters work every day of the week all year round. With that said, I always made them around the holidays too, even if I was at work.
One day I saw my wife eating salmon with red onion and capers on toast points at a jazz brunch. She topped them with sliced boiled eggs. That's where the inspiration came from.
I went home to experiment with the salmon deviled egg idea and finally tested out my new eggs on the guys at work. When they disappeared in just a few minutes, I knew I had something that needed to be included in my book. Whenever we are invited to a pot-luck reception or brunch, these are one of my most requested items. It's a perfect little bite-sized package!
Smoked Salmon Deviled Eggs
1 dozen eggs (hard boiled and peeled)
6 ounces of Nova smoked salmon (chopped small)
1 heaping tablespoon of capers (finely chopped)
1 heaping tablespoon of red onions (finely chopped)
1 large clove of garlic (finely chopped)
½ cup of Hellmann's mayonnaise
Pinch of kosher salt
3 or 4 turns of freshly ground black pepper 
Chop the salmon into very small pieces and place them in a bowl. Don't use a food processor. It just doesn't work. Get out the trusty old knife and do them by hand. It only takes a second.
Add all of your other ingredients, except the eggs, into the bowl with the chopped salmon. Fold them all together and cover. Place the bowl in a refrigerator for the time being.
Hard boil one dozen eggs. When they are cool, peel them and cut them in half lengthwise. Place the whites on a platter and put the yolks into a bowl. Use a fork to break up the yolks. They will crumble into very small pieces. Next add your salmon mixture to the crumbled egg yolks. Blend it all together with a fork. It should be almost pasty and thick. If it seems a little too thick and dry, add a bit more mayo.
Next, spoon the mixture into the hard-boiled egg whites. Don't worry about having enough to fill them all. There should be more than you need to not only fill the holes but to spread some across the top of the entire egg… with a bit to spare. Give them all a final twist of fresh cracked black pepper from the peppermill and serve.
Note: At first, I had a tendency to keep them in the refrigerator and serve them cold. But after I made and served them a few times, I changed that. People were telling me that they tasted better when they got closer to room temperature. So, I have found that if you prepare them ahead of time and need to put them in the fridge until guests arrive, be sure to take them out early enough to serve slightly chilled but not cold. On second thought, forget feeding them to your guests. Wait until they go home and eat them all yourself.