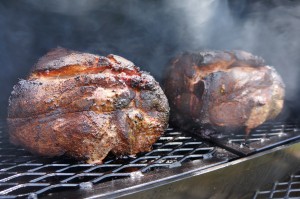 BBQ PULLED PORK
INGREDIENTS
8 to 10 pounds of pork shoulder (Boston Butt)
8 ounces of pulp free mango-flavored orange juice
2 ounces of honey
6 ounces Firehouse Backdraft BBQ & Butt Rub (or your favorite rub)
8 ounces of apple juice
1 meat injector (to inject the marinade)
1 meat thermometer (to monitor temperature of the meat)
1 spray bottle (for the apple juice)
Mix the mango flavored orange juice and honey together in a pot and heat. When the mixture is blended, put it aside to cool. You don't want to inject this while it is still warm.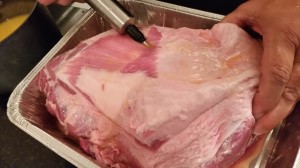 Clean the pork well under cold running water. Place it in a deep aluminum pan and then using an injector, inject the mixture in and throughout all of the muscles in the pork shoulder.

Some of it will come out but that's O.K. Once you have used up all of the liquid, empty the pan of any juice and rub on the BBQ rub. Make sure the meat is completely covered.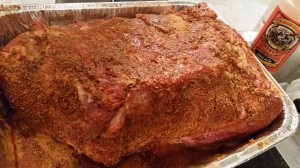 Slip the pork into a big Ziploc bag and place it into the fridge overnight to marinate.
The next day, heat up your smoker to about 225 degrees. Take the meat out of the fridge and let it sit for 30 minutes. If you would like to put even more rub onto the pork, now is the time.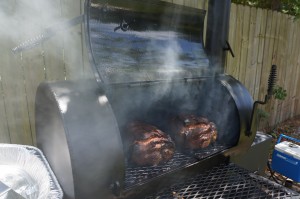 After that time, put the meat on the smoker and close it up. Every 20 minutes or so, open it and spray the pork down with the apple juice. Use a meat thermometer and when the inside is 150 degrees, place the pork into an aluminum pan. Put it back on the smoker until the internal temperature is 200 degrees. The cooking process will take anywhere from 8 to 10 hours. Keep spraying with the apple juice.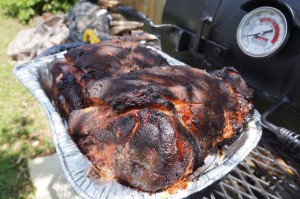 Remove the aluminum pan from the smoker and cover it with foil at that point. Let it sit on a mat to rest for at least an hour. Remove the foil and you will find the pork is cooked and there will be a lot of juice in the pan. Using two forks (or insulated gloves) break up the meat until it is all shredded and mixes with the juice. That's about it.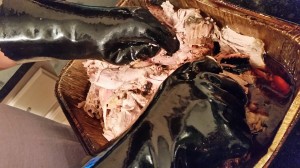 NOTE: If you are a BBQ sauce lover, add it at this point to mix with the meat. Some people will just serve it on the side because they like to control how much sauce they put on their meat.  I like to make an Alabama White Sauce and serve it with the pork on sandwiches. It's your choice.